Fusemachines
AI Hackathon
Turn Your Ideas Into
Innovation
April 21st–22nd, 2023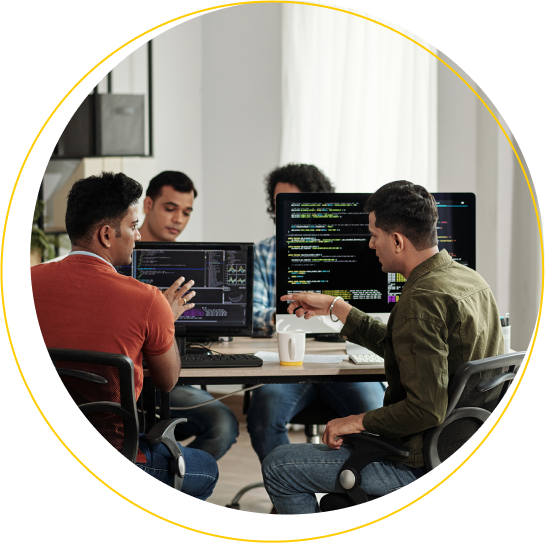 Fusemachines ran a 30 hour internal AI Hackathon April 21st-22nd, 2023.
The world is abuzz with excitement around AI, and we are excited to be pioneering game-changing AI solutions that further our mission to
Democratize AI
and bring AI opportunities to underserved communities.
<Creative solutions with a lasting impact>
Fuse data science and AI engineers came up with ideas that address key industry problems while honing in on opportunities to create solutions that have a lasting impact on the world.
The Fuse team is very passionate about outside the box solutions, and we loved the challenge to create meaningful solutions. We looked at problems differently and leveraged AI to solve them.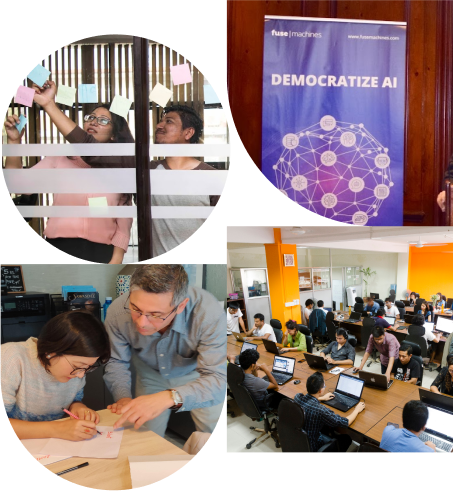 Team of Expert Participants
Why did we conduct an internal AI Hackathon?
Fusemachines conducted an internal AI Hackathon to foster creativity, teamwork, and out-of-the-box thinking. This event encouraged cross-functional collaboration, where employees from different departments worked together and learned from each other's expertise and shared insights to drive innovation.
On a mission to Democratize AI, Fusemachines believes this AI Hackathon was a step towards achieving that goal, providing a platform for Fuse employees to build unique ideas into AI solutions.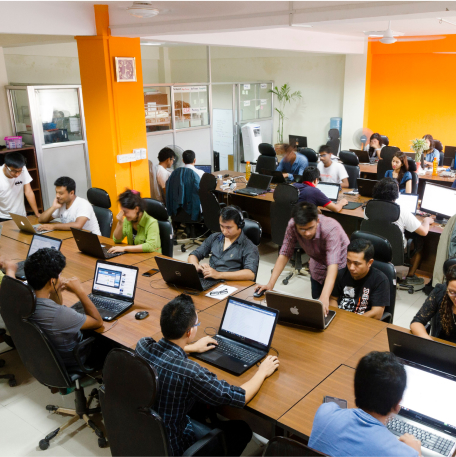 AI Hackathons are events that bring together developers, data scientists, and other tech/non-tech enthusiasts to collaborate on building AI-powered projects or improving existing ones. Participants typically form teams and work together over a set period of time, often ranging from a few hours to several days, to create a functional prototype or proof-of-concept using AI and related technologies.
Fusemachines Internal hackathon can drive AI transformation by providing a platform for AI and data engineers to experiment with new ideas and technologies, fostering a culture of innovation and collaboration, and identifying talent within the organization. This can accelerate digital transformation journey and lead to the development of innovative AI solutions that can make positive impact in the world.
Hackathons promote employee skill development, engagement, and innovation by providing a platform for employees to collaborate and learn from each other, experiment with new technologies, and develop their problem-solving and creativity skills. Additionally, hackathons can help employees develop a sense of ownership and pride in their work, which can increase engagement and motivation. Learn more about the importance of continuos learning in any growing organization from our latest blog,
here
Yes, nontechnical positions such as UX/UI designers, researchers, project managers, frontend designers, and domain experts have important roles to play in the hackathon. They can bring their unique perspectives and expertise to the development of AI solutions, helping to ensure that the solutions are user-friendly, accessible, and aligned with business goals. UX/UI designers can help create intuitive interfaces and ensure that the solutions are visually appealing. Researchers can provide insights into the latest trends and advancements in AI. Project managers can help organize and coordinate the teams, ensuring that the solutions are delivered on time. Frontend designers can help with the development of user interfaces and ensure that they are responsive and accessible. Domain experts can provide insights into the specific business problem being addressed, helping to ensure that the solutions are relevant and effective. Overall, the contributions of nontechnical positions are essential to the success of the hackathon and the development of high-quality
AI solutions
.
The global AI Market is valued at over 200 billion dollars as of 2023 as per a report by
Grand View Research.
Similarly, its market is expected to grow at a compound annual growth rate of 37.3% from 2023 to 2030 to reach USD 1,811.8 billion by 2030 as per the same report.
AI accessibility is important because it ensures that people with disabilities have equal opportunities to benefit from AI technology. This hackathon is addressing AI accessibility by encouraging participants to develop solutions that are inclusive and accessible to everyone, regardless of their abilities. This can help promote diversity and ensure that AI benefits everyone. Find out more about the hackathon through our
recent blog.
This hackathon will address gaps in all major industries including finance, retail, HR, Tech, and healthcare. The solutions developed here will try to solve vital problems faced directly at some points by these industries.
Data and AI engineers play critical roles in internal AI hackathons because they have the technical expertise required to develop and implement AI solutions. They can help identify relevant data sources, develop data models, and build machine learning algorithms to solve business problems. Furthermore, AI and data engineers help ensure that the solutions developed during the hackathon are scalable, secure, and adhere to best practices in AI development. Their knowledge and skills can help guide and mentor other participants, particularly those who may not have as much experience with AI development.
Related blogs and updates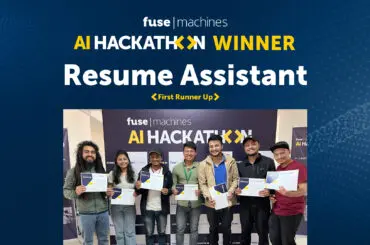 Resume Assistant: An Innovative Ally of Job Seekers
MAY 19, 2023
Team Resume Assistant was one of the winners of our recent AI Hackathon with their impressive product. This product is changing the landscape of resume creation, formatting, optimization and customization. Read to the end for our conversation with Punit Man Shrestha, the project's business owner! .
Read more ↗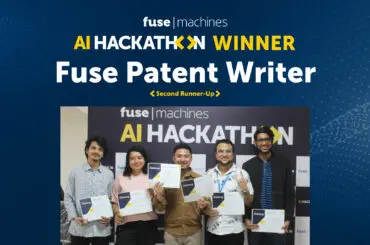 Revolutionizing Patent Writing With AI
MAY 13, 2023
Businesses and individuals want to protect their intellectual property to safeguard their inventions. Provisional patents are a fast and affordable way to establish an early file date while allowing time to test and perfect a concept. Learn more how our AI hackathon project Fuse Patent is achieving all this and more here.
Read more ↗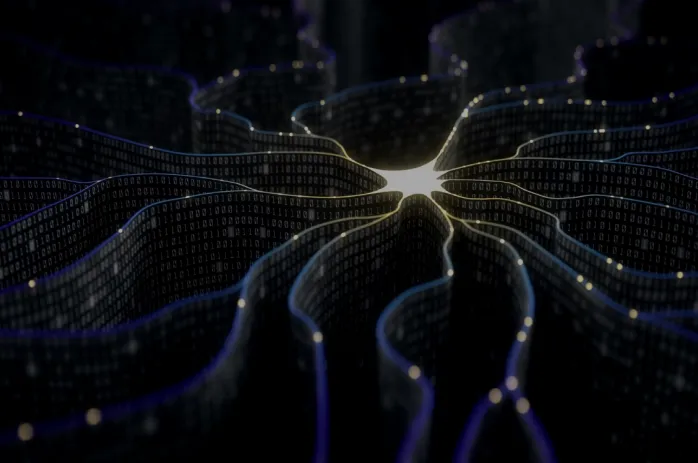 Fusemachines AI Solutions
Explore how Fusemachines solutions and AI implementation drives digital transformation in your industry and beyond.
Explore ↗